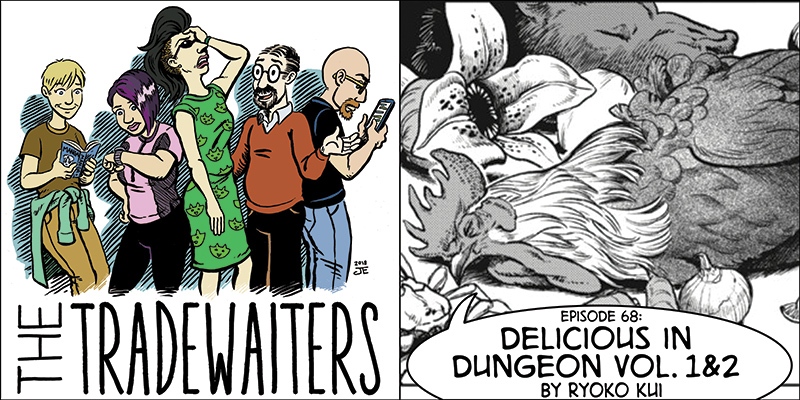 Have you ever wondered how to eat a suit of armour? Special guest Faith Erin Hicks joins Jam, Jeff, and Jon to find out as we read the first two volumes of Delicious in Dungeon by Ryoko Kui. This cross-genre comedy adventure about eating all the monsters in a fantasy campaign dungeon will give you answers to questions you didn't even know you had.
Also mentioned in this episode:
Terrarium in Drawer and The Dragon School Is on Top of the Mountain, also by Ryoko Kui
The Nameless City, Friends with Boys, Superhero Girl, Comics Will Break Your Heart, Demonology 101, and Ice by Faith Erin Hicks
Pumpkin Heads by Rainbow Rowell and Faith Erin Hicks
Avatar: The Last Airbender: Imbalance by Faith Erin Hicks and Peter Wartman
Buffy the Vampire Slayer created by Joss Whedon
Fullmetal Alchemist and Silver Spoon by Hiromu Arakawa
Dungeons and Dragons created by Gary Gygax and Dave Arneson
Pokemon directed by Kunihiko Yuyama
Binging with Babish by Andrew Rea
My Hero Academia by Kohei Horikoshi
The Clan of the Cave Bear by Jean M. Auel
Townsends
The Golden Compass by Phillip Pullman
Pacific Rim directed by Guillermo del Toro
Space Boy by Stephen McCranie
Monster Temple by Robin Carpenter
Jakface
Weregeek by Alina Pete
Skin Deep by Kory Bing
Stonebreaker by Peter Wartman
and The Murderbot Diaries by Martha Wells
You can find us at:
Jonathon Dalton
Jam
Jeff Ellis
and Faith Erin Hicks
Music by Sleuth.
Faith will join us again for our next episode, on the first two volumes of Drifting Dragons by Taku Kuwabara.
You can also follow the TradeWaiters on Tumblr, Soundcloud, Twitter, iTunes, Google Play, Stitcher, and Ko-Fi.
Podcast: Play in new window | Download (Duration: 57:27 — 52.6MB)
Subscribe: Google Podcasts | Email | RSS