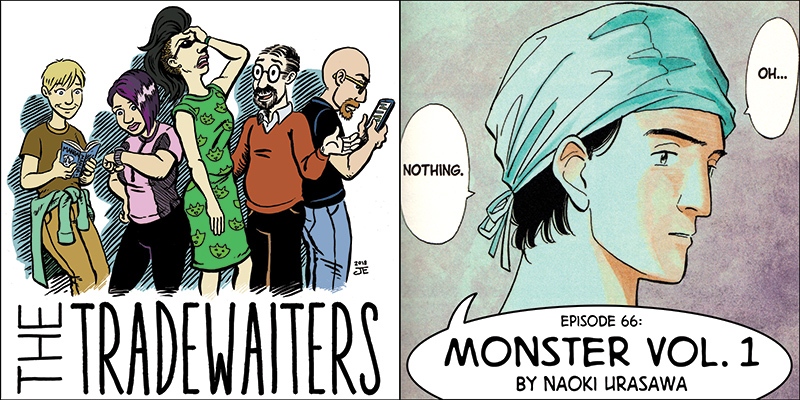 What's in a name? Does a name really matter? The book we read this episode is named "Monster" by Naoki Urasawa. Nina Matsumoto (if that's her real name) joins Jam and Jon to talk about the first volume of this series from Japan's master of suspense, and we get into deep discussions about good and evil, identity, choice, and whether or not comics characters should have their mouths open when they talk. You know, the important stuff.
Also mentioned in this episode:
Billy Bat, Pluto, Twentieth Century Boys, Yawara, Happy, Master Keaton, and Manben, all by Naoki Urasawa
Meat and Bone by Kat Verhoeven
Astroboy by Osamu Tezuka
Doraemon by Fujiko Fujio
Houshin Engi by Ryu Fujisaki
Dodohedoro by Q Hayashida
Gambling Apocalypse: Kaiji by Nobuyuki Fukumoto
and Paper Girls by Brian K. Vaughan and Cliff Chiang
You can find us at:
Jonathon Dalton
Jam
and Nina Matsumoto
Music by Sleuth
Our next episode will continue our look at Naoki Urasawa's Monster with volume 2.
You can also follow the TradeWaiters on Tumblr, Soundcloud, Twitter, iTunes, Google Play, Stitcher, and Ko-Fi.
Podcast: Play in new window | Download (Duration: 53:37 — 49.1MB)
Subscribe: Google Podcasts | Email | RSS