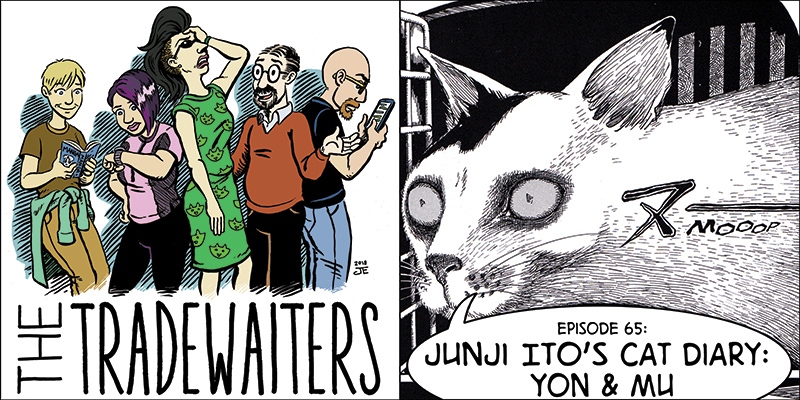 Renowned horror cartoonist Junji Ito has a cat life now. His auto-bio graphic novel Junji Ito's Cat Diary: Yon & Mu is this episode's book, and Jam, Jon, and Jeff are joined by Nina Matsumoto to talk about the book, the artist, and what it's like to live with cats.
Also mentioned in this episode:
Uzumaki: Spiral into Horror also by Junji Ito
On a Sunbeam by Tillie Walden
Unhealthy: Two Stories of Mental Health and Body Image by Sarah Winifred Searle and Abby Howard
Surviving the City by Tasha Spillett-Sumner and Natasha Donovan
Boumeries by Boum
Scream directed by Wes Craven
Paranormal Activity directed by Oren Peli
and Sparks by Ian Boothby and Nina Matsumoto
You can find us at:
Jonathon Dalton
Jeff Ellis
Jam
and Nina Matsumoto
Music by Sleuth.
Nina joins us again for our next episode on Monster Vol. 1 by Naoki Urasawa.
You can also follow the TradeWaiters on Tumblr, Soundcloud, Twitter, iTunes, Google Play, Stitcher, and Ko-Fi.
Podcast: Play in new window | Download (Duration: 33:08 — 30.3MB)
Subscribe: Google Podcasts | Email | RSS