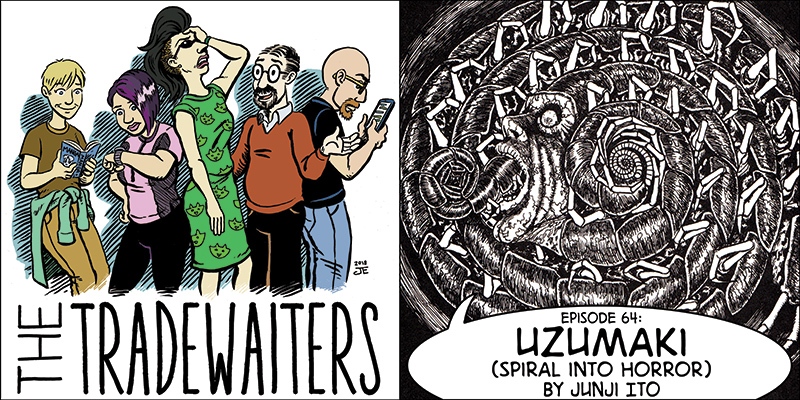 Spirals: they make ya think! Nina Matsumoto joins Jam, Jeff, and Jon for a spiral into the mind of Junji Ito, reknowned horror cartoonist. His Uzumaki (Spiral into Horror) is an obsessive, surreal story about a town cursed by the spiral. We'll dive right in, get tangled up, and hopefully make it out again at the end.
A lot of other works came up in this episode:
Gyo and Junji Ito's Cat Diary: Yon and Mu also by Junji Ito
Sailor Moon by Naoko Takeuchi
The Drifting Classroom and Cat-Eyed Boy by Kazuo Umezu
Animorphs by K.A. Applegate
Mare Internum by Dershing Helmer
Rusty Brown and Building Stories by Chris Ware
Guts by Raina Telgemeier
Manben by Naoki Urusawa
The Exorcist directed by William Friedkin
Suspiria directed by Dario Argento
Stephen Universe created by Rebecca Sugar
G.I. Joe: The Movie directed by Don Jurwich
Key and Peele created by Keegan-Michael Key and Jordan Peele
The Thing directed by John Carpenter
Star Trek: Voyager
Jojo Rabbit directed by Taika Waititi
and Sparks and Sparks 2: Double Dog Dare by Ian Boothby and Nina Matsumoto
You can find us at:
Jonathon Dalton
Jeff Ellis
Jam
and Nina Matsumoto
Nina joins us again for our next episode on Junji Ito's Cat Diary: Yon and Mu.
You can also follow the TradeWaiters on Tumblr, Soundcloud, Twitter, iTunes, Google Play, Stitcher, and Ko-Fi.
Podcast: Play in new window | Download (Duration: 53:53 — 49.3MB)
Subscribe: Google Podcasts | Email | RSS