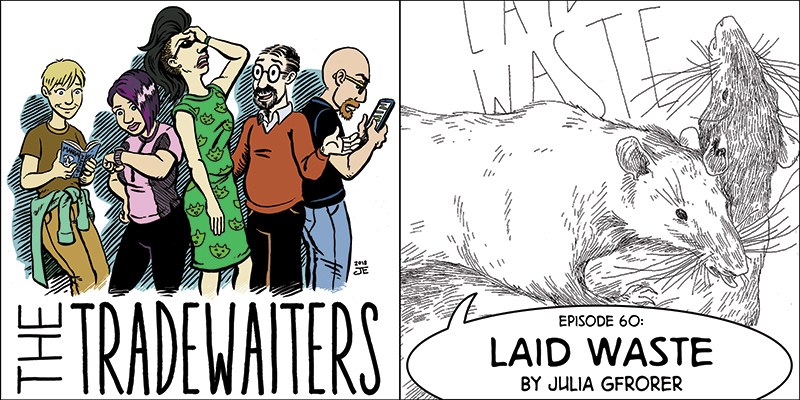 There's soil and gloom in the black death. Jess, Jon, Jeff, and Jam read Laid Waste by Julia Gfrorer, a tragedy set during the plague. We talk about the end of the world and what it's like to live through it (or not).
Also mentioned in this episode:
Fire and Ice by Robert Frost
Game of Thrones by George R.R. Martin
Dune by Frank Herbert
Barefoot Gen by Keiji Nakazawa
Chernobyl written by Craig Mazin
Revelations of Divine Love by Julian of Norwich
Precious Bane by Mary Webb
The Hidden Witch by Molly Knox Ostertag
Comics Will Break Your Heart by Faith Erin Hicks
Prism Stalker by Sloane Leong
and All Shall Be Well, and All Shall Be Well, and All Manner of Things Shall Be Well by Todd Wodicka
You can find us at:
Jonathon Dalton
Jeff Ellis
Jam
and Jess Pollard
Music by Sleuth.
Our next episode will be our 2019 TCAF/VanCAF roundtable.
You can also follow the TradeWaiters on Tumblr, Soundcloud, Twitter, iTunes, Google Play, Stitcher, and Ko-Fi.
Podcast: Play in new window | Download (Duration: 50:16 — 46.0MB)
Subscribe: Google Podcasts | Email | RSS