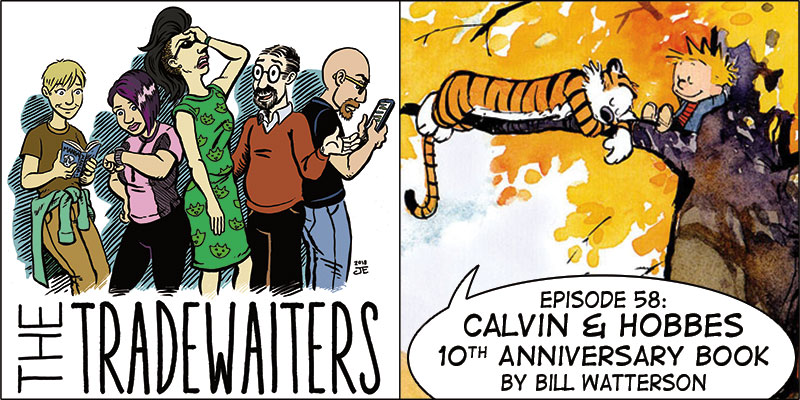 Is Calvin a reflection on the inner child? This is one of many questions raised as we read The Calvin and Hobbes Tenth Anniversary Book by Bill Watterson. Calvin and Hobbes are a big part of comics past and present. We reflect on the nostalgia, the history, and the craft of one of the greatest newspaper comics of all times.
Also mentioned in this episode:
Garfield by Jim Davis
The Far Side by Gary Larson
Real Life Adventures by Gary Wise and Lance Aldrich
Cul de Sac by Richard Thompson
Peanuts by Charles Shultz
Rex Morgan, M.D. by Terry Beatty
Pearls Before Swine by Stephan Pastis
Krazy Kat by George Herriman
Maus by Art Spiegelman
Boy's Club by Matt Furie
Gunshow by K.C. Green
Fortune and Glory by Brian Michael Bendis
Stitches by David Small
Nancy by Olivia Jaimes
Rocky directed by John G. Avildsen
Casablanca directed by Michael Curtiz
Neo Genesis Evangelion directed by Hideaki Anno
and Stripped directed by Dave Kellett and Frederick Schroeder
And our own projects:
Phobos and Deimos by Jonathon Dalton
and Crossroads by Jeff Ellis
Music by Sleuth.
Our next episode will be on Come Prima by Alfred.
You can also follow the TradeWaiters on Tumblr, Soundcloud, Twitter, iTunes, Google Play, Stitcher, and Ko-Fi.

Podcast: Play in new window | Download (Duration: 1:09:42 — 63.8MB)
Subscribe: Google Podcasts | Email | RSS