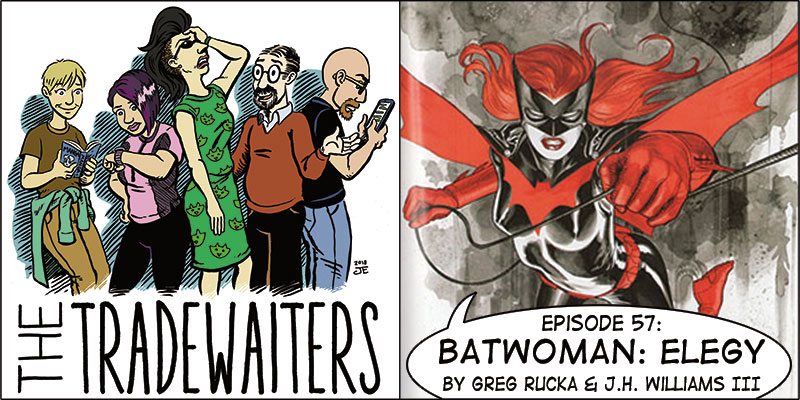 There are two mysteries in this book, and we solve them both. Jam, Jon, and Jeff read Batwoman: Elegy by Greg Rucka and J.H. Williams III, and it sparked a lot of good discussion. We talk about reasons to be a superhero, how to write in an extended universe, and the gulf between art and script. Join us as we solve the mystery of who Alice is, and why this book is structured the way it is.
Also mentioned in this episode:
Action Comics, Detective Comics, Superman, and Atticus Kodiak, all written (at least at one point) by Greg Rucka
Promethea, Desolation Jones, and Sandman: Overature, all drawn by J.H. Williams III
Fifty-Two by various
Seduction of the Innocent by Frederick Wertham
Understanding Comics by Scott McCloud
Alice's Adventures in Wonderland by Lewis Carroll
Josephine Baker by Catel and Bocquet
The Obelisk Gate by NK Jemisin
and Upgrade Soul by Ezra Claytan Daniels
And our own projects:
Wander by Jam and Sfé
Phobos and Deimos by Jonathon Dalton
and Crossroads by Jeff Ellis
Music by Sleuth.
Our next episode will be on The Calvin and Hobbes Tenth Anniversary Book by Bill Watterson.
You can also follow the TradeWaiters on Tumblr, Soundcloud, Twitter, iTunes, Google Play, Stitcher, and Ko-Fi.
Podcast: Play in new window | Download (Duration: 48:30 — 44.4MB)
Subscribe: Google Podcasts | Email | RSS