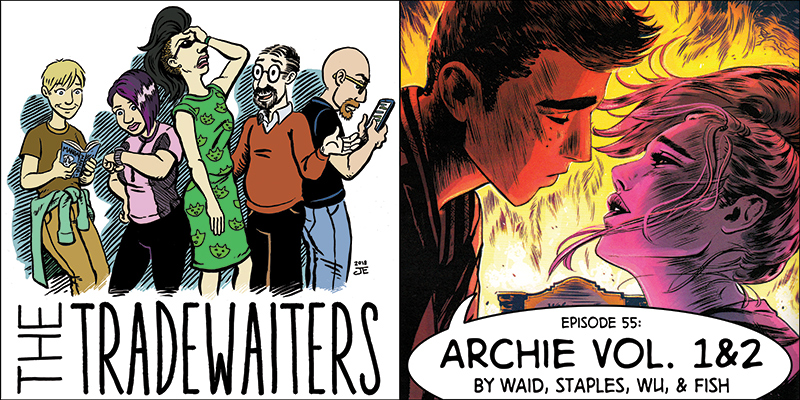 Archie has continuity now?? For today's episode, local Archie expert Kathleen Jacques joins us as we read Archie Volumes 1 and 2, the reboot written by Mark Waid and drawn by Fiona Staples, Annie Wu, and Veronica Fish. We discover who has never read an Archie comic before, how the reboot reads to long-time fans, what the deal is with the #lipstickincident, and how this version of Archie compares to a certain TV series.
Also mentioned in this episode:
Saga written by Brian K. Vaughan and drawn by Fiona Staples
Dead Guy Fan Club by Annie Wu
Mega Man, Dexter's Lab, and Sonic, drawn by Ryan Jampole
Sabrina the Teenage Witch by George Gladir and Dan DeCarlo and Josie and the Pussycats by Dan DeCarlo
Degrassi Extra Credit #4: Safety Dance by J. Torres and Steve Rolston
Delilah Dirk and the Pillars of Hercules by Tony Cliff
The Hchom Book by Marian Churchland
We're Still Here edited by Tara Avery and Jeanne Thornton
Rurouni Kenshin by Nobuhiro Watsuki
Shonen Jump
Softr by James Brandi
The Sneaky Dragon with guest Dan Parent
and Riverdale by Roberto Aguirre-Sacasa.
And our own projects:
Band Vs. Band by Kathleen Jacques
Phobos and Deimos by Jonathon Dalton
Crossroads by Jeff Ellis
Lunar Maladies by kgros
and Liquid Shell by Jess Pollard
Music by Sleuth.
Our next episode will be on A Bintel Brief by Liana Finck.
You can also follow the TradeWaiters on Tumblr, Soundcloud, Twitter, iTunes, Google Play, Stitcher, and Ko-Fi.
Podcast: Play in new window | Download (Duration: 1:02:20 — 57.1MB)
Subscribe: Google Podcasts | Email | RSS