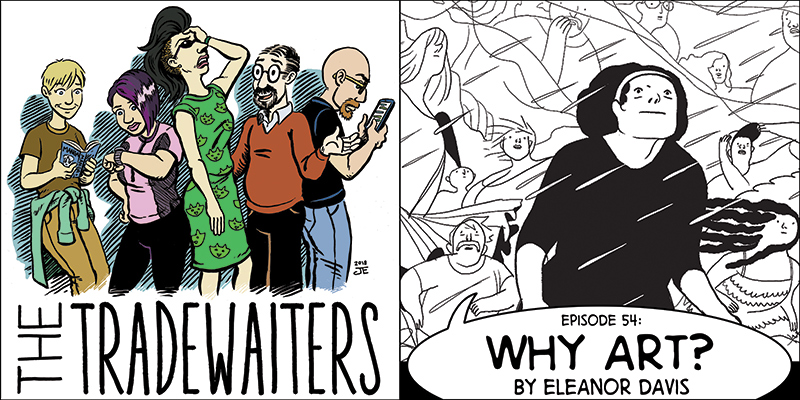 Why Art? by Eleanor Davis is a meditation on what art means for the artist and for society. This surreal story isn't one that can be easily pinned down, but it is complex and insightful, and Jess, Jam, Jeff, and kgros will spend some time unpacking it with you. Read it, listen in, and decide if you want it on YOUR fantasy football curriculum vitae.
Also mentioned in this episode:
Stinky, Flop to the Top, Libby's Dad, You and a Bike and a Road, and How to Be Happy, also by Eleanor Davis
Frontier published by Youth in Decline
A Clockwork Orange by Anthony Burgess
Saberia by the students at Guilford Secondary School
To Kill a Dragon directed by Mark Zakharov
and Anne written by Moira Walley-Beckett.
And our own projects:
Crossroads by Jeff Ellis
Lunar Maladies by kgros
and Liquid Shell by Jess Pollard
Music by Sleuth.
Our next episode will be on Archie volumes 1 & 2 by Mark Waid, Fiona Staples, and Veronica Fish.
You can also follow the TradeWaiters on Tumblr, Soundcloud, Twitter, iTunes, Google Play, Stitcher, and Ko-Fi.
Podcast: Play in new window | Download (Duration: 42:25 — 38.8MB)
Subscribe: Google Podcasts | Email | RSS