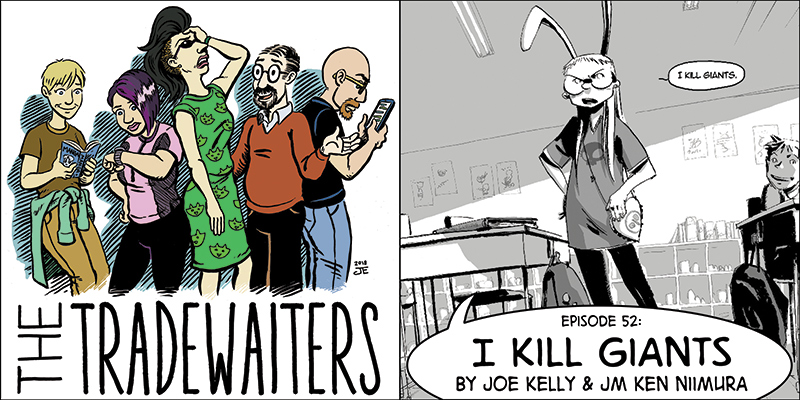 Today's episode is about unreliable narrators. Also it's about I Kill Giants by Joe Kelly and JM Ken Niimura. Barbara is a troubled middle schooler who may or may not kill giants, and Jess, Jon, Jeff, and Jam have a lot to talk about as we dive into this story. Unless we don't. We might decide to talk about pastel goths vs. soft bois instead. There may be a movie adaptation of this book, which you may have heard of, but we haven't seen it so we can't say.
Also mentioned in this episode:
Deadpool, Uncanny X-Men, Action Comics, and Ben 10, all written by Joe Kelly.
Americus by M.K. Reed and Jonathan Hill
Tonoharu by Lars Martinson
Long Exposure by Mars
Amelie directed by Jean-Pierre Jeunet
Neon Genesis Evangelion directed by Hideaki Anno
Ancillary Justice by Ann Leckie
and the Ride to Conquer Cancer.
And our own projects:
Phobos and Deimos by Jonathon Dalton
Crossroads by Jeff Ellis
Jam's comics
and Liquid Shell by Jess Pollard
Music by Sleuth.
Our next episode will be on The Complete Persepolis by Marjane Satrapi.
You can also follow the TradeWaiters on Tumblr, Soundcloud, Twitter, iTunes, Google Play, Stitcher, and Ko-Fi.
Podcast: Play in new window | Download (Duration: 59:54 — 54.8MB)