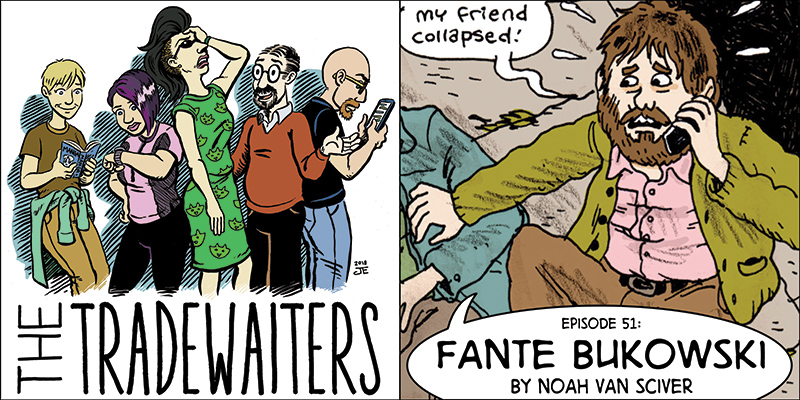 It's like Goofus without Gallant. For this episode we read Fante Bukowski by Noah Van Sciver, a short, indie graphic novel about a failed writer who is basically the worst. Check out the book and then listen in to find out what Jess, Jon, and Jeff thought about it. We've got plenty of good writers' tips to share, like don't die, and manage your moose anger.
Also mentioned in this episode:
Blammo, The Hypo: The Melancholic Young Lincoln, and My Hot Date, also by Noah Van Sciver
As Meat Loves Salt by Maria McCann
The Unbearable Lightness of Being by Milan Kundera
Goofus and Gallant by Gary Cleveland Myers
Jon by Gale Galligan
Toast of London and Garth Marenghi's Darkplace written by Matt Berry
and Noah Van Sciver's blog.
And our own projects:
Phobos and Deimos by Jonathon Dalton
Crossroads by Jeff Ellis
and Liquid Shell by Jess Pollard
Music by Sleuth.
Our next episode will be on I Kill Giants by Joe Kelly and JM Ken Niimura.
You can also follow the TradeWaiters on Tumblr, Soundcloud, Twitter, iTunes, Google Play, Stitcher, and Ko-Fi.
Podcast: Play in new window | Download (Duration: 59:57 — 54.9MB)