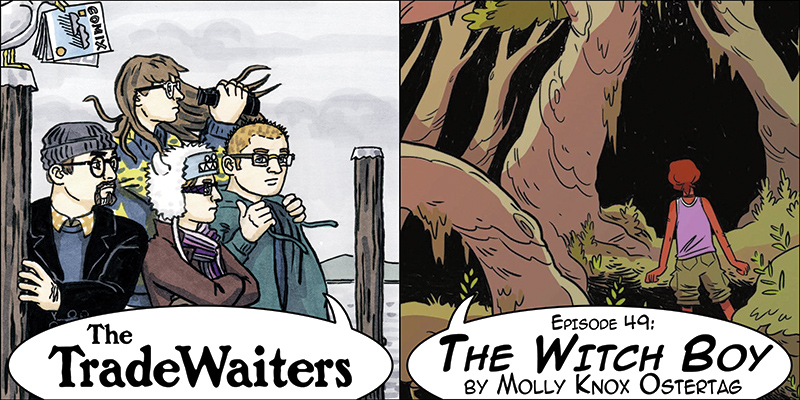 Get down with the magical commune. This episode Jon, Jess, Jeff, Jam, and Kaye read The Witch Boy by Molly Knox Ostertag, and it was a universal favourite. The Witch Boy is a middle grade graphic novel about magic, gender roles, and defeating dragons. Our panelists also reveal their cat-sonas and talk about the Scholastic book order forms.
Also mentioned in this episode:
Strong Female Protagonist and The Hidden Witch, also by Molly Knox Ostertag, as well as Shattered Warrior drawn by Molly and written by Sharon Shinn, The Castoffs drawn by Molly and written by M.K. Reed and Brian Arthur Smith, and Star Vs. the Forces of Evil created by Daron Nefcy.
Baby Mouse by Jennifer L. Holm and Matthew Holm
Garfield by Jim Davis
Asterix by René Goscinny and Albert Uderzo
The Stone Heart by Faith Erin Hicks
The Expanse created by Mark Fergus and Hawk Ostby
Never Alone by Upper One Games
Money Heist created by Álex Pina
The Vampire Diaries created by Kevin Williamson and Julie Plec
and Teen Wolf created by Jeff Davis
And our own projects:
Phobos and Deimos by Jonathon Dalton
Crossroads by Jeff Ellis
It's Okay to Sploot by Jam
Lunar Maladies by kgros
and Liquid Shell by Jess Pollard
Music by Sleuth.
Our next episode will be our fiftieth anniversary edition, recorded live at VanCAF 2018!
You can also follow the TradeWaiters on Tumblr, Soundcloud, Twitter, iTunes, Google Play, Stitcher, and Ko-Fi.
Podcast: Play in new window | Download (Duration: 50:34 — 46.3MB)
Subscribe: Google Podcasts | Email | RSS