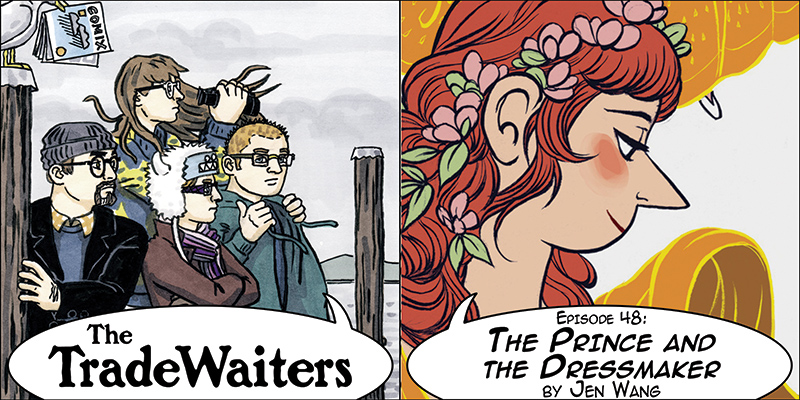 Listen in as Jon, Jess, Jeff, Jam, and Kaye read The Prince and the Dressmaker by Jen Wang. This book is a stunning piece of cartooning and an instant classic. It's a fairytale-esque historical drama about a genderfluid prince and his fashion designer slash muse slash confidante.
TradeWaiters episodes have been sparse in the last few months, which Jon would like to apologize for, so to make up for it for the next while episodes will be released every other week until we're caught up.
Also mentioned in this episode:
Koko Be Good and White Snake, also by Jen Wang.
In Real Life by Corey Doctorow and Jen Wang
Flight edited by Kazu Kibuishi
Nancy by Olivia Jaimes
Set to Sea by Drew Weing
Super Late Bloomer by Julia Kaye
The Flinstones by Mark Russell and Steve Pugh
and Tomboy Survival Guide by Ivan Coyote
And our own projects:
Phobos and Deimos by Jonathon Dalton
Crossroads by Jeff Ellis
It's Okay to Sploot by Jam
Lunar Maladies by kgros
and Liquid Shell by Jess Pollard
Music by Sleuth.
Our next episode will be on The Witch Boy by Molly Knox Ostertag.
You can also follow the TradeWaiters on Tumblr, Soundcloud, Twitter, iTunes, Google Play, Stitcher, and Ko-Fi.
Podcast: Play in new window | Download (Duration: 53:12 — 48.7MB)
Subscribe: Google Podcasts | Email | RSS