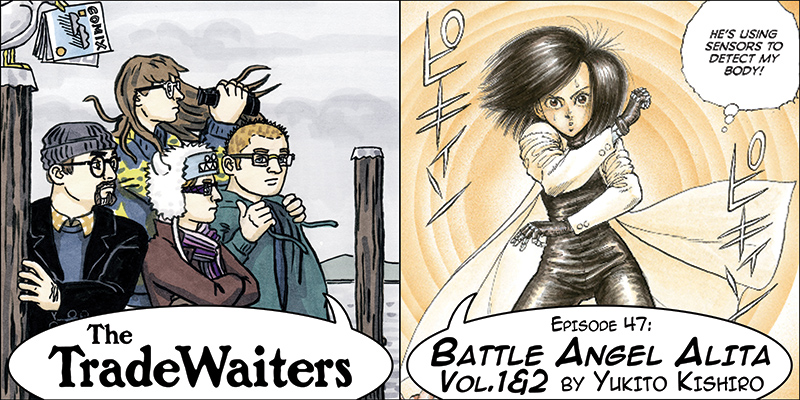 It today's episode Jam, Jeff, Jon, and Kaye read the first two volumes of Battle Angel Alita by Yukito Kishiro. Join us in the bleak, dystopian future of this nineties manga where robot bodies are cheap but freedom is not. Spoiler alert: one of the Tradewaiters didn't like this book, and another doesn't like movies.
Also, you are cordially invited to the LIVE recording of our fiftieth episode at VanCAF this weekend! Admission is free (and VanCAF is awesome), so come watch us talk about comics in person at 3:30 on May 19th in the panel room at VanCAF at the Roundhouse Community Centre in Yaletown, Vancouver.
Also mentioned in this episode:
Space Oddity and Aqua Knight, also by Yukito Kishiro.
Altered Carbon produced by Laeta Kalogridis
Dragon Ball Z by Akira Toriyama
The Wicked and the Divine by Kieron Gillen and Jamie McKelvie
The Infinity Gauntlet by Jim Starlin, George Perez, & Ron Lim
Serial Experiments Lain directed by Ryutaro Nakamura
The Wolf-Birds by Willow Dawson
and Eden's Outcasts by John Matteson
And our own projects:
Phobos and Deimos by Jonathon Dalton
Crossroads by Jeff Ellis
Lunar Maladies by kgros
and Jam's website
Music by Sleuth.
Our next episode will be on The Prince and the Dressmaker by Jen Wang.
You can also follow the TradeWaiters on Tumblr, Soundcloud, Twitter, iTunes, Google Play, and Stitcher.
Podcast: Play in new window | Download (Duration: 57:43 — 52.8MB)
Subscribe: Google Podcasts | Email | RSS