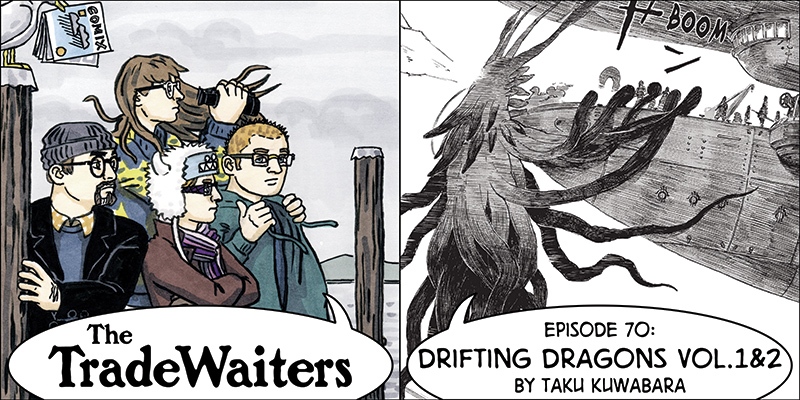 We recorded this episode only a few months ago, and yet anything before quarantine began feels like a lifetime ago. Anyways, this is Drifting Dragons volumes 1 and 2 by Taku Kuwabara. Faith Erin Hicks joins us again for a deep dive into a manga about hunting, killing, and eating dragons. We also get lost on detours about analogy, cartoonist envy, and what it means to be famous in comics.
Also mentioned in this episode:
Friends with Boys by Faith Erin Hicks
Nausicaa of the Valley of Wind by Hayao Miyazaki
One Piece by Eiichiro Oda
Dragon Ball Z by Akira Toriyama
Naruto by Masashi Kishimoto
Bone by Jeff Smith
Scott Pilgrim, Seconds, and Snot Girl written by Bryan Lee O'Malley
Homestuck by Andrew Hussie
Dorohedoro by Q Hayashida
Land of the Lustrous by Haruko Ichikawa
I Am Not Okay with This by Charles Forsman
Moby Dick by Herman Mellville
Lord of the Rings by J.R.R. Tolkien
Anne of Green Gables by Lucy Maud Montgomery
Sherlock Holmes by Arthur Conan Doyle
Harry Potter by JK Rowling
Stranger Things created by Matt Duffer and Ross Duffer
The Cove directed by Louie Psyhoyos
The Young Pope directed by Paolo Sorrentino
Undertale by Toby Fox
and Musicalsplaining by Lindsay Ellis
You can find us at:
Jonathon Dalton
Jam
Jeff Ellis
and Faith Erin Hicks
Music by Sleuth
Our next episode will be on volume 1 of Saga by Brian K. Vaughan and Fiona Staples.
You can also follow the TradeWaiters on Tumblr, Soundcloud, Twitter, iTunes, Google Play, Stitcher, and Ko-Fi.
Podcast: Play in new window | Download (Duration: 53:46 — 49.2MB)
Subscribe: Google Podcasts | Email | RSS