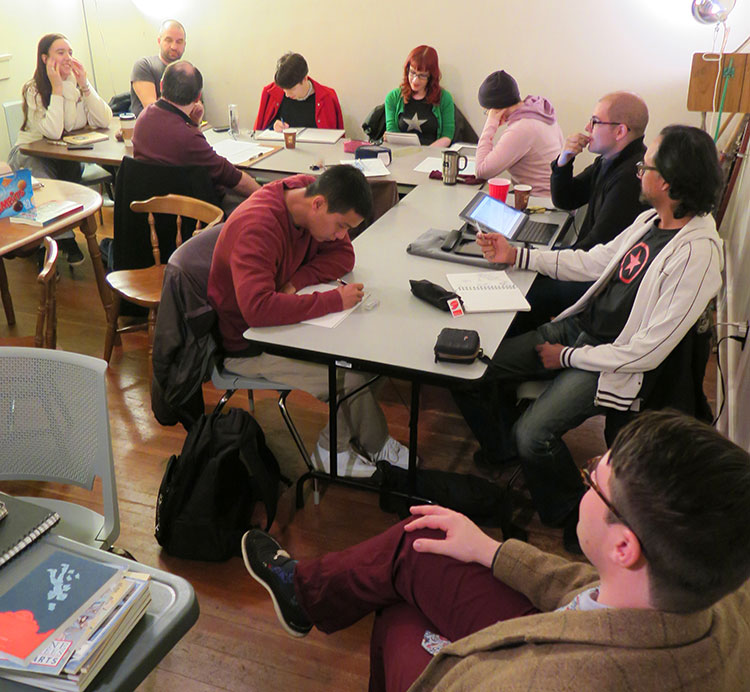 Cloudscape is made up of over 100 members of the comics community within BC. Whether you're currently living here, or have lived here, you'll always have the west coast in you. To become a member of Cloudscape Comics, you need only be published in one of our projects, or attend three Wednesday night meetings at Cloudscape Comics.
At Cloudscape, we are dedicated to developing meaningful community amongst all people who like, love, read, draw, write, edit, letter, ink, and create comics. One of the main ways we maintain this community is through our weekly meetings, which occur every Wednesday evening, where both aspiring and experienced comic artists can network, exchange ideas, and perfect their craft in a supportive environment. Please visit our Events page for more details!
The creation of art is often a lonely, even isolating occupation, but these meetings have forged strong artist collaborations and facilitated the spread of ideas and kinship among the BC comics community. They are open to anyone interested in exploring the comics medium, and we're always interested in learning more of talented new writers and artists who seek to express themselves through comic books and graphic novels.
The meetings generally start at around 7:30 and continued onward into the night.  Cloudscape meetings are a place to work on personal projects among like-minded individuals, share ideas, and receive feedback. A great idea is only the beginning; sometimes it takes fresh eyes to point out ways you can really make your work shine.