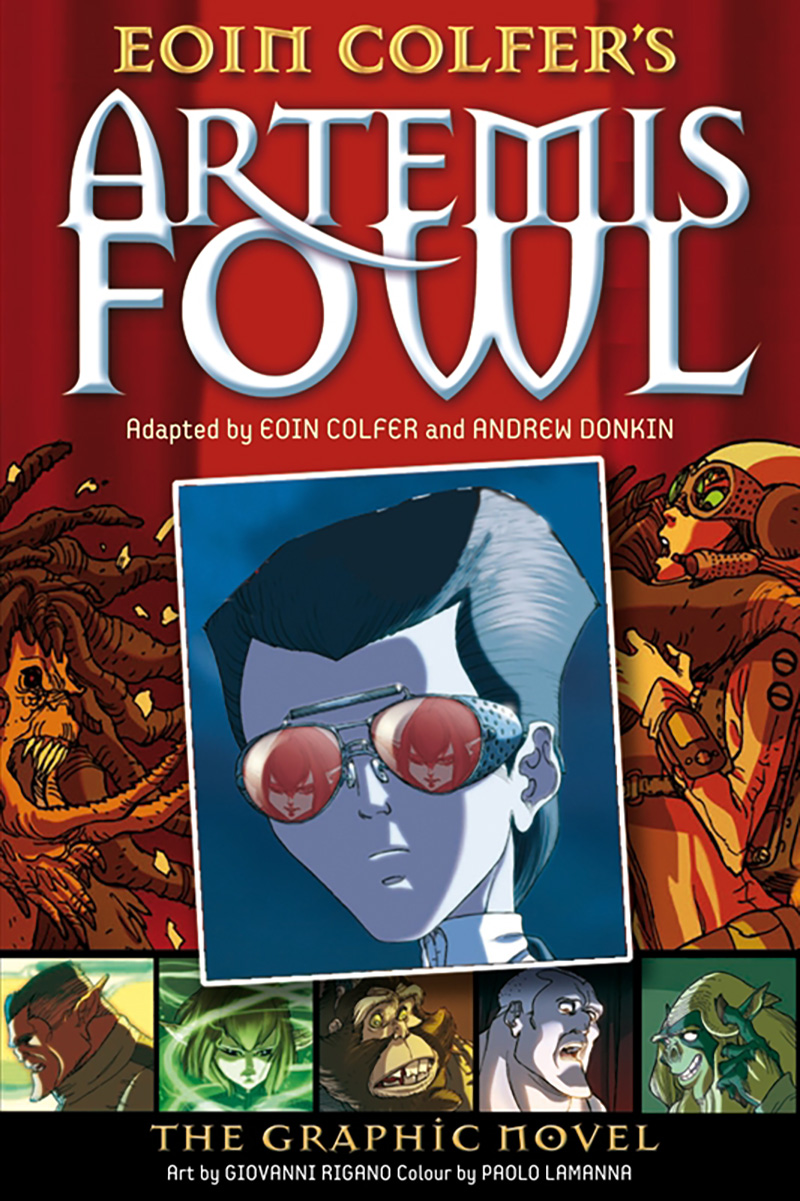 Review by Matthew Nielsen
An adaptation of the first book of the young adult fantasy series by Eoin Colfer, Artemis Fowl: the Graphic Novel is written by Eoin Colfer and Andrew Donkin, illustrated by Giovanni Rigano, and colored by Paolo Lamanna. Artemis Fowl  focuses on young genius (aged 12 in the first book) and his mission to restore his family's wealth. His method of acquiring this wealth is via the discovery and attempted extortion of the LEP and their world. The LEP (or Lower Elements Police) is the guardian force of the Fairy Folk, as well as keepers of peace and order in a secret underground world of magical beings. They are technologically advanced and magical, and because they are able to erase memories and easily manipulate human technology, the Fairy Folk remain hidden and unknown to human civilization. That is until Artemis Fowl shows up. With the help of his immensely strong and tactile bodyguard/manservant simply known as "Butler," Artemis sets up a plan that, if successful, will bring in a fortune.
The series is mainly aimed towards young adults and has various lighthearted moments, here and there, but it is not without death or violence (but you probably won't see any of the characters dropping any F-bombs if you get what I mean).
Now,  I find that I very much prefer the original book. The artwork used in this graphic novel, especially the way the characters have been stylized, is not to my liking. The artwork is indeed quite detailed and very well-coloured, but the adaptation is pretty short, and so various things have been quite abridged. I would have preferred a longer book with more story, pauses, dialogue, and pacing. If that would have meant less detail and even no colour, I reckon it would have been more than worth it. Keep in mind I do love detail, but if it's at the cost of story, then I do not enjoy it as much.
The characters in the graphic novel have been given some strange designs. For example, Butler has an extraordinary neck and the fairy character Holly is drawn noticeably taller than she was in the book. Also, the artist over-emphasized a character's cleavage for some reason. Still, the way some of the characters have been stylized is not too bad. For example, the character Root was done pretty well, I reckon. Anyhow, it might be nitpicking in the end. We often find disappointments with other people's interpretations of fictional characters we've imagined in our own way.
I read the first two Artemis Fowl graphic novels but didn't continue after that. As for the original series, I stopped on the penultimate novel, as I was no longer happy with how the series had changed. I recommend most of the series to young adults, especially ages 9-13 or so. Books 1, 3 and 5 are my favourite, whilst Books 6 and 7 I found quite disappointing.